When finding new recipes I love to look at pictures. I skim the actual recipe and study the picture and develop my own recipe based on the idea and how it should look. So my new favorite website,
Pinterest
, has become an addiction. When I came across a post of a pasta pie I knew I had to try it. Mainly because I wanted to see if it really worked. This would be an impressive dish to serve to guests. What you will need; a springform pan, 1 box of rigatoni pasta, 1 lb ground beef, 1/2 lb of sausage, 1 jar of pasta sauce and mozzarella cheese.
Cook pasta only half of the directed time. Drain, rinse with cold water and toss with olive oil. Arrange pasta in a greased springform pan standing up. Really pack the noodles in. One box fit perfect for me.
Brown ground beef and sausage and drain grease. Add the jar of pasta sauce and simmer for a few minutes. Really make sure to breakdown the beef and sausage. You want it to be able to sink down into the pasta openings.
Pour sauce over the top of the noodles. Pressing it down and trying to work some it down the pasta openings. Make sure to put your springform pan on a baking sheet. Some of the sauce seeped out of mine and made a mess until I put it on a sheet.
Bake in a 350 degree oven until hot. I did mine about 30 minutes. Remove and add cheese to top. Bake for another 10-20 minutes until cheese is melted and starting to brown.
Let cool for a couple of minutes, run a knife around the edges and release the outer ring. Slowly remove, making sure nothing is sticking. I really expected that when I was doing this the whole thing was gonna fall apart. But it didn't!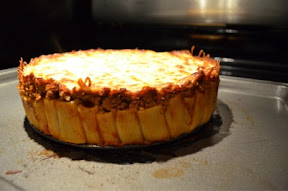 Definitely will be making this again. Probably when we have guests or if I need to bring a dish somewhere. It is impressive and cuts just like a pie.
- Posted using BlogPress from my iPad