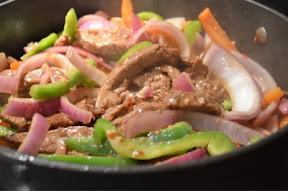 Sometimes I feel like I make the same 10 dinners over and over again. So when the little one naps on a Saturday afternoon I watch cooking channels and surf the Internet for dinner ideas. When I could not find anything that sounded good I started pondering the idea of just ordering Chinese food. But the thought of greasy chicken and gooey sauce got me thinking maybe I should try making something myself. I found a recipe for
Hunan Beef
that sounded fairly simple to make. I made my list and headed to the store.
Thinly sliced flank steak marinating.
Sliced onions and bell peppers.
This dish paired with some sticky white rice was just perfect for a fun and different Saturday night dinner. It was also really easy, I just think I need to invest in a wok. Watch out for the grease splatter when you add the meat to the hot peanut oil! Definitely adding it to my list of dinners.
- Posted using BlogPress from my iPad