It is December 28th and we are starting to pack things up to head home tomorrow. I do have to say that not being home for the holidays was kind of weird. Growing up the holidays were always so routine. For us it was Christmas eve at mom's house then Christmas day at dad's house, for so many years this never changed. But as I have gotten older the normal routine has changed so much. Wanting to do what I am so used to and wanting to start new traditions with my own little family. I don't think Hawaii will become part of that tradition. There are so many things I missed. Putting up a Christmas tree, waking up Christmas morning to stocking and presents from Santa, a big holiday dinner around the table and holiday baking. The weekend before we left I could not help myself. I had to do a little holiday baking. I made frosted sugar cookies, almond roca bars, thumb prints with the now infamous chocolate raspberry sauce and muddy buddies. It felt a little more like the holidays with plates of goodies around. I took some pictures but cannot find which memory card they are on, so I will have to share later. But here are some fun pics from Hawaii.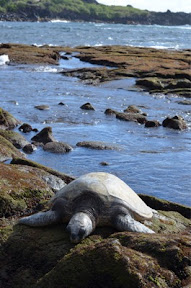 The beautiful black sand beaches. Turtles were there everyday.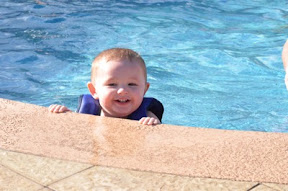 Getting him signed up for swimming classes ASAP!
The biggest challenge of the trip was getting him to slow down and take a nap.
- Posted using BlogPress from my iPad